WELCOME
We exist to provide information and instruction in a DIY (Do-It-Yourself) format to help you connect with what you were created to do on the earth.  Our goal is for you to stop dreading Monday mornings, and can't wait until Fridays – and find happiness, fulfillment and money doing work you actually LOVE. Here's how we do that…

Podcast
The Be Great Global podcast is at the center of what's happening here. You can expect weekly posts on Wednesdays, providing great content and even greater conversations designed to help you on your journey.
Training Programs
I love teaching and training, therefore you will find both on-demand and live training programs providing detailed instruction for the CALL. Topics include, Product and Brand Development, Marketing, Merchandising, etc.)

Resources
Because I know firsthand how much work and effort is required to fulfill the CALL. I am constantly searching for AMAZING Resources to make what we do as easier. As I find them and test them out, I will share them with you.
MEET THE FOUNDER
ANITA "AC" CLINTON
Hi – I am Anita "AC" Clinton – and I believe that God has CALLED each of us to do something GREAT in our lifetime. And, whatever that is – it's constantly pulling at you. In fact, your happiness, fulfillment and money is locked inside the CALL. I am here to help you unlock it…
Look at me as your fearless (most of time) guide and adventurer (from Russell Brunson's Attractive Characters). As an adventurer, I don't have all the answers, but I do know a lot about a lot, and what I don't know, I'm willing to do the legwork to find the answers for both you and me. In addition, I have AMAZING (for real, for real) Superpowers (set of skills/talents) that I use make our respective journeys to fulfilling the CALL easier. Therefore, I am all for sharing knowledge, information, quick tips & tricks, tools and resources. So if you need something, let me know and I will do my best to provide it.
Come On, Let's Do This…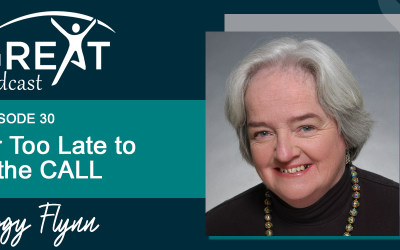 Click the blue Play button above to listen right now in your web browser. "I think that [determining] your destiny is a process where you think you know what it is, then life shows you what it is. I marched out into life saying 'this is what I'm here to do,' and then...
read more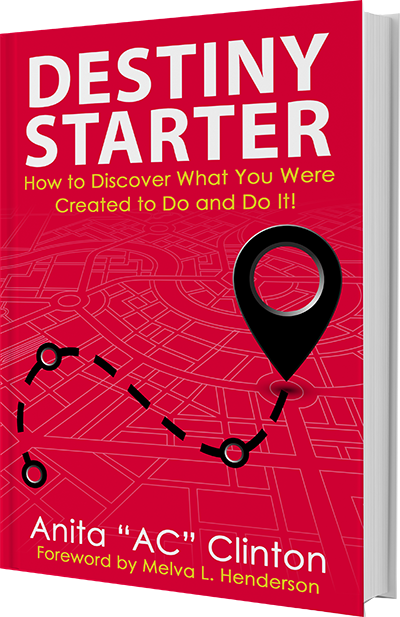 ANITA'S FIRST BOOK:
DESTINY STARTER
HOW TO DISCOVER WHAT YOU WERE CREATED TO DO AND DO IT!
"Destiny Starter: How to Discover What You Are Created to Do and Do It!" is an inspiring, practical and instructional guide that walks readers step-by-step through the process of extracting and launching their DREAM into motion. This book is the foundation for everything I do here at Be Great Global. In addition to the book, I have also created the Destiny Starter Training Program that walk students through each phase of the book. Individuals finish the on-demand or live course knowing their purpose, and with an action plan to launch and execute it. Get ready to renew your mind, speak life into your vision and take action to walk in your GREATNESS.
The much-awaited book is scheduled to be released in 2020.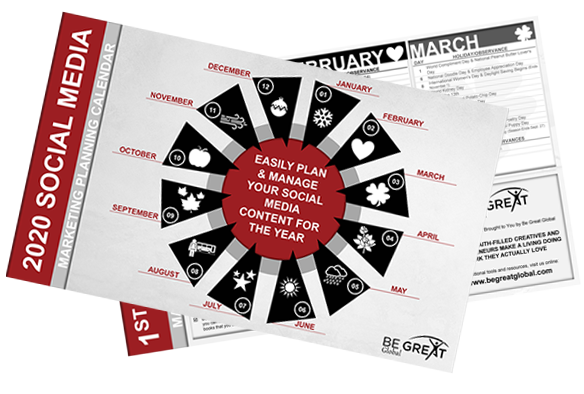 In addition to the checklist, you will receive weekly emails with relevant content to help you launch and advance your purpose.  If you don't benefit from the material, you can unsubscribe anytime.
As You Plan Your Social Media Marketing, Help is Here…
Download our FREE giveaway pdf, "2020 Social Media Marketing Planning Calendar"

Be Great Global (BG2) is an online training platform helping Dreamers transition to Game-Changers, through our podcasts, training programs and resources.
CONTACT US