A Snapshot of Be Great Global and Founder
ABOUT BG2
1 BILLION DREAMERS WALKING BOLDLY IN THEIR GREATNESS AND TRANSFORMING THE FACE OF OUR WORLD

Be Great Global (BG2) is an online training platform helping Dreamers answer the CALL and LOVE the work they do.
We envision a world where 1 billion morally conscious, ethical Dreamers are walking boldly in their GREATNESS and transforming the face of our world. We believe that when you connect to the reason for your existence on earth, it not only changes your life, but it completely transforms what we all see and experience in the world. It's truly a game-changer, and it matters – it really matters!
We can't stress it enough, the world (we) need what's inside of you!
Therefore, we invite you to stop DREAMING about it and come along on this journey of fulfilling the CALL on your life. You are already at the starting line because you are reading this – so don't put it off, get started today. Know that God has you covered and BG2 has your back.
Come On, Let's Do This…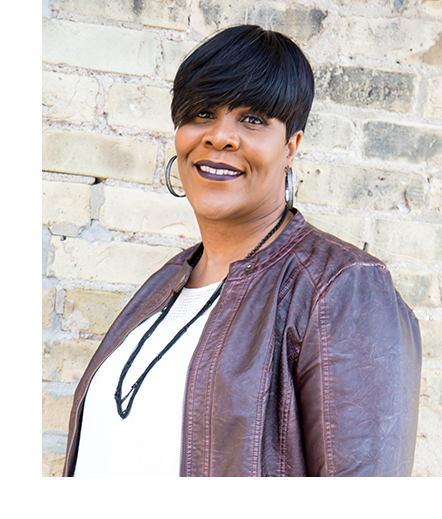 Hi, I'm Anita "AC" Clinton, founder and overseer of Be Great Global (BG2).  I say "overseer" because this is God's ministry, and I'm the individual He blessed with the opportunity to oversee it. I know that may sound very religious, like when folk say, "I'm blessed and highly favored" – but real talk, I am truly blessed to oversee this ministry. In fact, there's an interesting story that I share further down about how this came to be…
But before we go there, you may want to know a little more about me. I am a speaker, trainer, consult and writer about all aspects of PURPOSE. I exist to help DREAMERs transition to GAME-CHANGERS.  It is my desire to see the masses walking boldly in their GREATNESS and transforming the face of our world. Through my podcasts, books, training programs and speaking engagements, I help DREAMERS start the journey to living an extraordinary life. Can I tell you, I LOVE WHAT I DO!!!
SO WHAT MAKES ME CREDIBLE…
I have over 18-years of creative design, brand development, marketing, editorial and business development experience
I have been a part of a number of different business ventures in various fields, including real estate development, video production, sports and entertainment management, new media production, to name a few
I have launched, designed and managed two specialty magazines: wakeUPgirl Magazine (CLICK HERE>> to view a copy) and Invest with Passion Magazine
I currently project management firm, where I help visionaries bring their dreams, vision and ideas to manifestation
In my business, I have developed business and marketing plans, websites, logos, marketing materials, and managed major projects – positioning my clients for success and next-level growth
I have successfully worked with authors, speakers, writers, pastors, non-profit organizations, entrepreneurs, artists, small business owners, coaches, consultants, real estate investors, industry experts/gurus, and executives…
I have been in church all my life and I have the ability to balance ministry and business.  So whether you are called to the ministry or marketplace, I have you covered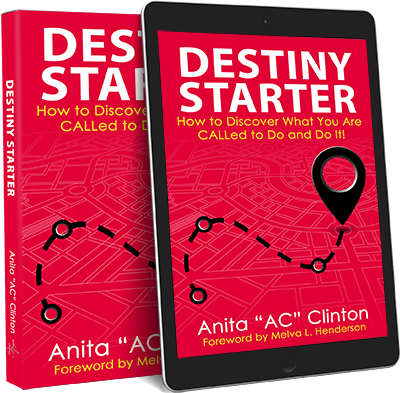 MY GREATEST ACCOMPLISHMENT SO FAR…
I absolutely love to write and I am the author of a book entitled, "Destiny Starter:  How to Discover What You Are CALLed to Do and Do It!" This book is by far, the GREATEST thing that I have done in my life so far. And, I have done some other AMAZING things, but none of them compares to this one. It is a biblically-rich, inspiring and practical guide that walks readers step-by-step through extracting and launching their life vision into motion. At the conclusion of the book, you will know WHAT you are CALLed to do and HOW you will do it.
The book is scheduled to be released October 23, 2019. I can't wait!!!
WANT TO KNOW MORE…
Well hopefully that's enough about me, but if you really want to know more – visit my website at anitaclinton.com or download my One-Sheet>>.
Well, how we got here is a funny story.  Well, it's funny now, but it surely wasn't funny when it was happening.
At the end of each year, since 2007, I have set goals for the incoming year.  However, 2014 was a little different.  I sat down to set my 2015 goals, and I got nothing.  Typically during this time, I get with God and we flow – but not this time.  I was like, God, what are we doing in 2015?  STILL, NOTHING!!!
Therefore, I went into 2015 with no goals and so I opted to just work on my book – "Destiny Starter: How to Discover What You are CALLed to Do and Do It!."
That was until around February.  I was sitting in church and Pastor Melva Henderson of World Outreach Center was preparing to deliver the message.  However, before she began, she paused and called a couple from audience to the altar.  She began to speak into their lives and as she was prophesying to them, I was sitting in my seat with my hands stretched toward them, praying in the spirit.
As I'm praying, I clearly hear God say, "it's time for you to start your ministry!"  I paused and was like – WHAT?  I immediately go back to praying in the spirit, and I hear it again – "it's time for you to start your ministry!"  My response this time was, "ok, let's talk about this after church." 
I get out church and that particular Sunday, I was driving to Chicago.  In route, I begin to plead my case with God.  I did not and have NEVER wanted to be in Ministry.  I have been in church since I can remember and I accepted Jesus as my Lord and Savior at a very young age.  My spiritual foundation is solid, but being in Ministry was not a part of my plans.  My passion is entrepreneurship.  I have been in some form of entrepreneurship for the last 20 years and I LOVE IT!!!
Needless to say, tears were streaming down my face.  I did not agree with God, and I was very vocal with Him about my disagreement.  I called a couple of friends to share the message I had received and they each said the exact same thing, in the exact same vernacular – "Anita, it's not what you think!"
This argument with God, yeah it was an argument, went on for another 2-3 months.  I simply was not in agreement – Ministry was not how I saw my life going…PERIOD!
JUST TRUST ME…
One day as I was scrolling through my Facebook feed, I saw the image to the right.  After looking at this image, the waterworks began to flow…I was so clear that this was a message for me from GOD.
I was that little girl tightly holding on to what I thought was my destiny – not knowing that God had something much bigger and better in store for me.  In that moment, I stopped and said "YES".  And God began to upload BG2…and here's the AMAZING part – not only do I get to apply all of my experiences in business, but I get to be a blessing to others.
I LOVE ALL OF IT!!!  And as I look back over all the tears and all the time I wasted…I'm clear that at the end of the day, God always knows best.
Amen!
STAY CONNECTED
Join the BG Squad and be among the first to receive our monthly resource giveaways and other goodies designed to help you find happiness, fulfillment and money.