Discover How Easy It Is To Design Custom Websites Or Landing Page
Would you like to add web design and landing page creation to your business' list of services?

Or, create your own website and landing pages where you can fully control your brand, product/service launches? Even if you hire someone else to do it for you – knowing how to do it yourself can be powerful…

I don't know about you, but I love the various platforms that help me run my business, but I don't like all of the additional monthly costs/expenses I incur.

Here – your website and landing pages – doesn't have to be an additional cost anymore. And you have the freedom to get it done when you need it done

Either way, it's GREAT to have options…whether you use them or not!
Web Design Masterclass Includes…


Recorded, Replayable Sessions

Tools & Resource Recommendations

Hi, I'm Anita Clinton, Your Trainer.
I have designed hundreds of websites, starting back in 2006. Back then, I was working with a team on a real estate project, and we needed a fully functional website that we could update weekly. I took on the challenge and decided to learn how to build the site. I found videos and tutorials, and taught myself how to create websites.
Today, I have perfected that skillset, and would love to share it with you. I will be there for you every step of the way.
Building stunning websites are not as hard as you would imagine. Join us and see for yourself.
Don't Put It Off, Space is Limited.
Web Design Masterclass Overview…
Session One – 12/7/19
Domain & Web Host Setup

Layout Development

Q&A
Session Two – 12/14/19
Content Development

Brand Application

Q&A
Session Three – 12/21/19
Alias Email Account Setup

WordPress Installation/Setup

Q&A
Session Four – 12/28/19
Plug-in Installations

Email Marketing Setup

Q&A
Bonuses
Website Reviews

2-Live Group Q&A Sessions

Final Website Showcase
Access the Class from Anywhere via Internet
The 4-Week Web Design Masterclass is facilitated live, online, Saturdays from 9am-11am CST. Class runs December 7-December 28, 2019. All sessions are recorded and made available to students.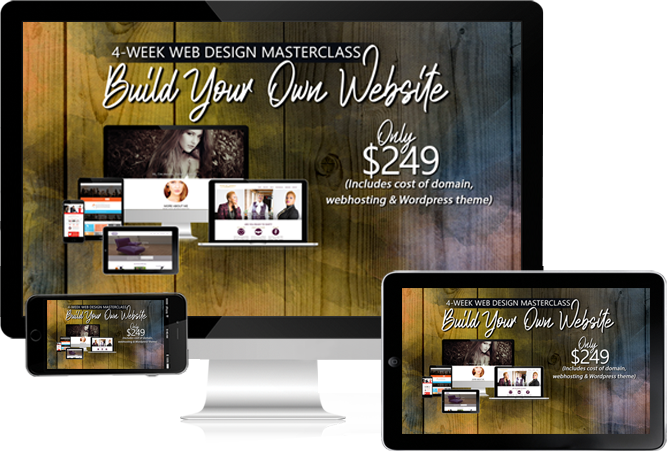 Should you have any questions, concerns, please complete the form and we will get back to you within 24-hours.